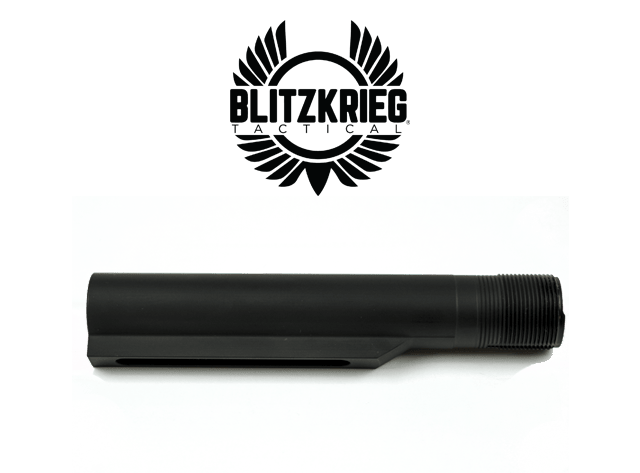 Blitzkrieg Mil-Spec Carbine Buffer Tube
The Blitzkrieg Carbine Buffer Tube is a Mil-Spec buffer tube/receiver extension for any AR-15 and LR-308 rifle that the user wishes to mount an adjustable stock onto. This tube is designed for adjustable stock setups, but will work with a stock-locking device if you wish to fix your stock in place in order to be state compliant. This buffer tube will NOT work with rifle-style stocks. If you would like to set up your rifle with a rifle stock, you may want to check out our Blitzkrieg Rifle Buffer Tube.
The Blitzkrieg Carbine Buffer Tube is perfect for those who want adjustability, yet also want the option of making their weapon fixed-stock compliant (with additional hardware), in order to comply with their state's laws.
Kit includes:
Mil-Spec Carbine Buffer Tube
Product Specifications:
Bolt: 9310, Shot Peened, Heat Treated, Nitride
Carrier: SAE 8620, Heat Treated, Nitride, Full Auto
Extractor: Swiss Machined, Heat Treated, Precision Ground
Firing Pin: Swiss Machined, Heat Treated, Precision Ground
Gas Key: CNC Machined, Heat Treated, Nitride, Torqued and Staked to Mil-Spec, Nickel Boron Plated
Cam Pin: Swiss Machined, Heat Treated, Nitride
MPI Tested: Yes, Individually Tested
Product Specifications:
Bolt: 9310, Shot Peened, Heat Treated, Nitride
Carrier: SAE 8620, Heat Treated, Nitride, Full Auto
Extractor: Swiss Machined, Heat Treated, Precision Ground
Firing Pin: Swiss Machined, Heat Treated, Precision Ground
Gas Key: CNC Machined, Heat Treated, Nitride, Torqued and Staked to Mil-Spec, Nickel Boron Plated
Cam Pin: Swiss Machined, Heat Treated, Nitride
MPI Tested: Yes, Individually Tested