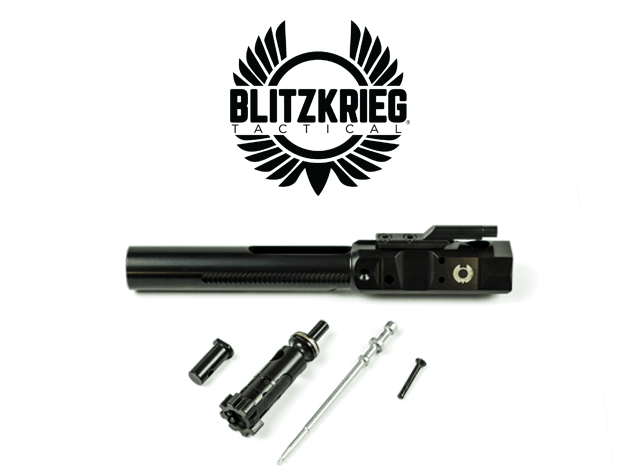 Blitzkrieg LR-308 Bolt Carrier Group Dual Ejector
The Blitzkrieg LR-308 Bolt Carrier Group Dual Ejector is a Black Nitride coated Mil-Spec BCG designed for use with LR-308 setups.
DUAL EJECTOR: "Two is one, one is none," a motto to live by. With this BCG we added a second ejector in the bolt. Building this redundancy allows our BCG to eject and extract efficiently and consistently. This is truly a remarkable and uncommon feature offered in bolt carrier groups.
The carrier has a large and pronounced shoulder for positive interface with the DPMS style forward assist. Additionally, the carrier has serrations in the 3 o'clock position down the side (similar to 5.56 serrations) so that the carrier will properly interface with uppers that have forward assists in the 3 o'clock position.
Black Nitride coating is a process that hardens the surface of steel while also giving it high corrosion resistance, wear resistance, and lubricity. Our BCG is constructed with mil-spec parts to ensure proper fitment and function, all parts are machined and are not manufactured with any MIM (Metal Injection Molding) processes.
Our BCGs are coated by H&M who own the trademark "Black Nitride." All parts are proudly manufactured right here in the USA.
Kit includes:
Complete Black Nitride Bolt Carrier Group Dual Ejector (LR-308)
Product Specifications:
Bolt: Heat Treated 9310 Steel, Shot Peened, Nitride, Two Ejectors, Two Crane O-Rings
Carrier: SAE 8620, Dual Forward Assist Serrations, Heat Treated, Nitride
Extractor: Swiss Machined, Heat Treated, Precision Ground, Dual Extractor Springs
Firing Pin: Swiss Machined, Heat Treated 8740 Steel, Center-less Ground, Hard Chrome Coated
Gas Key: CNC Machined, Heat Treated 4340 Steel, Nitride, Torqued and Staked to Mil-Spec
Cam Pin: Swiss Machined, Heat Treated, Nitride
MPI Tested: Yes, Individually Tested
Product Specifications:
Bolt: Heat Treated 9310 Steel, Shot Peened, Nitride, Two Ejectors, Two Crane O-Rings
Carrier: SAE 8620, Dual Forward Assist Serrations, Heat Treated, Nitride
Extractor: Swiss Machined, Heat Treated, Precision Ground, Dual Extractor Springs
Firing Pin: Swiss Machined, Heat Treated 8740 Steel, Center-less Ground, Hard Chrome Coated
Gas Key: CNC Machined, Heat Treated 4340 Steel, Nitride, Torqued and Staked to Mil-Spec
Cam Pin: Swiss Machined, Heat Treated, Nitride
MPI Tested: Yes, Individually Tested