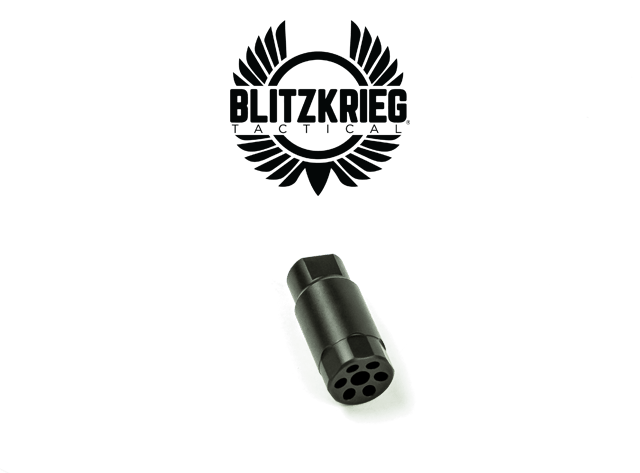 Blitzkrieg Linear Compensator
The Blitzkrieg Linear Compensator is designed for the AR-15 and LR-308 platforms. Available in two different sizes, Standard or Magnum. Available in both Black or FDE color options.
Our linear compensator is designed to direct muzzle gas, muzzle flash, and noise away from the shooter while adding to your weapon's image. The benefit to a linear compensator is that you can mount it almost flush with the handguard as all the gases are pushed forward. Recoil is also directed rearward towards the shooter, leading to less muzzle rise. This device also works phenomenally with shorter barrels, so if you want more comfort while shooting your AR pistol, this is the upgrade for you.
This compensator comes in two different sizes to best suit the look of your handguard.
Like all of our products, our Blitzkrieg Linear Compensator is proudly manufactured right here in the USA.
Kit includes:
Linear Compensator (AR-15 or LR-308)
Product Specifications:
Bolt: 9310, Shot Peened, Heat Treated, Nitride
Carrier: SAE 8620, Heat Treated, Nitride, Full Auto
Extractor: Swiss Machined, Heat Treated, Precision Ground
Firing Pin: Swiss Machined, Heat Treated, Precision Ground
Gas Key: CNC Machined, Heat Treated, Nitride, Torqued and Staked to Mil-Spec, Nickel Boron Plated
Cam Pin: Swiss Machined, Heat Treated, Nitride
MPI Tested: Yes, Individually Tested
Product Specifications:
Bolt: 9310, Shot Peened, Heat Treated, Nitride
Carrier: SAE 8620, Heat Treated, Nitride, Full Auto
Extractor: Swiss Machined, Heat Treated, Precision Ground
Firing Pin: Swiss Machined, Heat Treated, Precision Ground
Gas Key: CNC Machined, Heat Treated, Nitride, Torqued and Staked to Mil-Spec, Nickel Boron Plated
Cam Pin: Swiss Machined, Heat Treated, Nitride
MPI Tested: Yes, Individually Tested