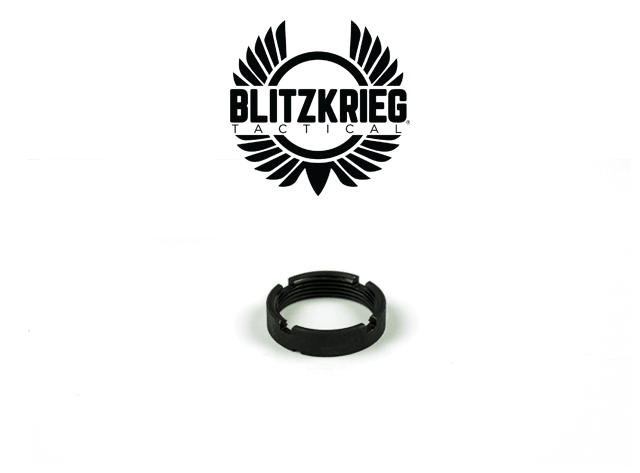 The Blitzkrieg Castle Nut is a Mil-Spec castle nut for any AR-15 and LR-308 with a carbine buffer tube installed. Made from steel and coated black.
The castle nut included will NOT work with rifle-style buffer tubes. A rifle buffer tube does not require a castle nut to be installed.
The Blitzkrieg Castle Nut, like all of our products, is proudly manufactured right here in the USA.
Product Specifications:
Material: Steel
Coating: Black

Gas Key: CNC Machined, Heat Treated, Nitride, Torqued and Staked to Mil-Spec, Nickel Boron Plated
Cam Pin: Swiss Machined, Heat Treated, Nitride
MPI Tested: Yes, Individually Tested
Product Specifications:
Bolt: 9310, Shot Peened, Heat Treated, Nitride
Carrier: SAE 8620, Heat Treated, Nitride, Full Auto
Extractor: Swiss Machined, Heat Treated, Precision Ground
Firing Pin: Swiss Machined, Heat Treated, Precision Ground
Gas Key: CNC Machined, Heat Treated, Nitride, Torqued and Staked to Mil-Spec, Nickel Boron Plated
Cam Pin: Swiss Machined, Heat Treated, Nitride
MPI Tested: Yes, Individually Tested