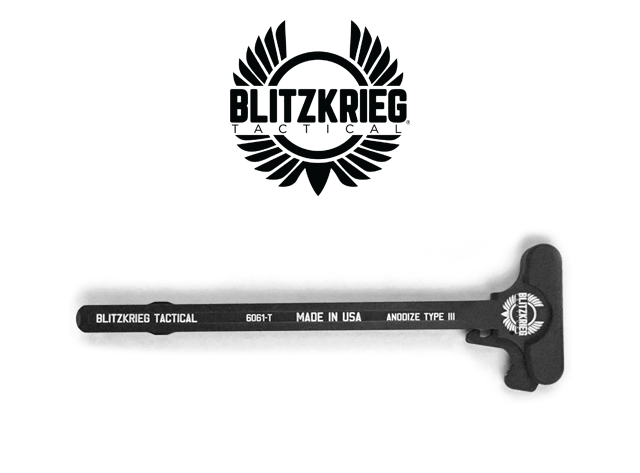 Blitzkrieg AR-15 Charging Handle
The Blitzkrieg AR-15 Charging Handle is a Mil-Spec charging handle designed for the AR-15 platform, and is available in standard and extended latch variants.
The extended latch version of our charging handle extends past a normal Mil-Spec latch and has a more pronounced profile. Even though the extended variant is indeed extended, we consider this latch to have a medium profile. As such, the medium profile gives the operator more to grab on to without getting in the way. This means no snagging on clothes or gear like some of the other extended latches on the market. This allows the operator to manipulate the weapon faster and more efficiently.
The Blitzkrieg AR-15 Charging Handle is constructed of 6061 aircraft grade aluminum, and is proudly manufactured right here in the USA.
Kit includes:
Charging Handle (AR-15, Standard or Extended Latch)
Product Specifications:
Charging Handle: Type III Hard Coat Anodized, Billet, 6061 Aluminum
Latch: Type III Hard Coat Anodized, Billet, 6061 Aluminum
Gas Key: CNC Machined, Heat Treated, Nitride, Torqued and Staked to Mil-Spec, Nickel Boron Plated
Cam Pin: Swiss Machined, Heat Treated, Nitride
MPI Tested: Yes, Individually Tested
Product Specifications:
Charging Handle: Type III Hard Coat Anodized, Billet, 6061 Aluminum
Latch: Type III Hard Coat Anodized, Billet, 6061 Aluminum